"White space is the space on the page that is not occupied by any text or graphics. You might call it blank space. Beginners tend to be afraid of white space. Professional designers "use" lots of white space."
-Robin Williams (No, not that one), in the Non-Designer's Design Book

A good graphic designer knows that empty space is not something that needs to be filled. It's an important part of the design, the part that allows the other elements to breathe. It's what sets the important elements apart from the background so they stand out visually. It gives them room to move in the viewer's mind.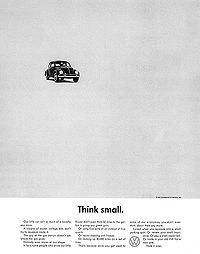 This famous newspaper advertisement for the Volkswagen "Bug" is perhaps an extreme example of graphic white space.
A beginning graphic designer would have probably filled the whole page with the image, adding "LOW PRICE", "GREAT GAS MILEAGE" and "IMPORTED FROM EUROPE" in a big, bold, screaming font for impact
But the designer of this ad had the experience and confidence to know how to use white space, not only to make his point, "Think small", but also to grab your attention and draw you in. The expansive emptiness of the page both makes the image of the car stand out on the page and makes the advertisement stand out from the rest of the newspaper's contents.
In fact, I think you could argue that the white space is the most important part of this ad. That's what makes it work.
As a speaker, you can use verbal white space – silence – in the same way.
Beginning speakers are usually terrified of silence. They fill it with "Umms" and Ahhhs". They fill it with twitches, nervous gestures and aimless movement. They fill it with greetings, thank yous and apologies. They babble and digress; anything but standing silently in front of their audience.
Great speakers know that it is the silence of the moments in which you are not speaking – white space – that make the words you say more powerful.
It's the silence between your words that shapes the meaning of what you say.
It's the silence that draws the ears of the audience to a particular word or phrase, giving it weight and impact.
It's the silence that gives your listeners time to process your words and weave them into the fabric of their own experiences, thoughts, and feelings.
It's the silence that gives your predetermined speech or presentation an air of authenticity and spontaneity that more closely resembles natural conversation.
It's the silence that makes you sound more confident, powerful and authoritative, because it shows that you are not afraid to stand naked in the stillness.
It's the artful use of silence – white space – that distinguishes you from an ordinary speaker